What you see is all we have left in stock- check or cash sales only THANKS TO ALL!!!
"RAILRACK"
"RAILRACK" holds your AR style rifle firmly in its spring loaded jaws, and is easily removed for quick retrieval. Just a quick turn of the thumb screws on top and your rifle is locked in on your picatinny rail. "RAILRACK" can be mounted on walls, in closets or on the shooting bench-in any position, 360 degrees. (must buy a mounting post for this type of wall or bench display). "RAILRACK" combined with the new Roll Cage Mount or the Universal Roll Cage Mount is the answer for safe and secure transport of your AR style rifle to the deer stand, target range while hunting pigs or trespassers.
Also see the RailRack Kit
RAILRACK dimentions: 4" wide X 2" tall X 1" thick
Comes with multiple machine screws and nuts to mount through the body to either the NEW "Roll Cage Mount", "Universal Cage Mount" or any of the 3 inch Mounting Posts not included .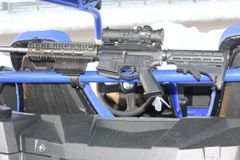 "RAILRACK" KIT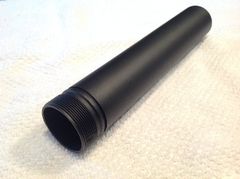 CARBON STEEL BLACK MODEL C2